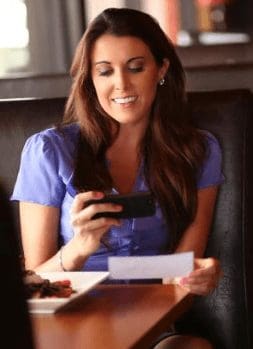 It's as easy as… Tap. Snap. Deposit!
Can't make it to the credit union? No worries! Send us your check deposits via Mobile Deposit. With a faster, more responsive platform, get quicker access to your cash when you need it.
GETTING STARTED IS AS EASY AS…1…2…3!
Download our free Unity of Eatonville FCU Mobile Banking app (available in the Apple and Google Play Stores)
Click "Deposit" icon along bottom menu
Follow the screen prompts from there
ELIGIBILITY
To be eligible to use Mobile Check Deposit you must:
Be 18 years of age or older
Enroll in Virtual Branch and download the Unity of Eatonville FCU Mobile Banking App (available in the Apple or Google Play stores)
Not have caused Unity of Eatonville FCU a financial loss
Be current on all of your loans with us
Bring your share accounts to a positive balance at least once every thirty (30) days or less
Have fewer than six (6) transactions returned for nonsufficient funds ("NSF") in the last twelve (12) months
Have had fewer than three (3) returned deposit items in the last twelve (12) months
HELPFUL HINTS
Be sure to capture all four corners of the check in the image.
Place the check on a flat, single-colored surface. You'll want the check image to be centered and inside the green guidance lines.
The quality and color of the ink may impact whether the image is accepted. If the ink is too light or doesn't contrast with the check background, you may need to deposit it at a branch.
Be sure to properly endorse the back of the check with your signature and with the words "For Mobile Deposit only at Financial Institution Teachers FCU or Unity of Eatonville FCU." If checks are not properly endorsed, they will be rejected.
Getting a clear image of your check is the key to making a successful mobile deposit.
Once the check is submitted: Be sure and check back on the app for updates to see if it was ACCEPTED, PENDING, or FAILED.
CONTACT US
Phone: (407) 637-5657
Mailing Address
P.O. Box 948022
Maitland, FL 32794-8011
Physical Address
323 E. Kennedy Blvd. STE G
Eatonville, FL 32751
Routing Number: 063193022
Branch Hours
Sunday: 10 a.m. – 2 p.m.
Monday: 9 a.m. – 4 p.m.
Tuesday: 9 a.m. – 4 p.m.
Wednesday: CLOSED
Thursday: 9 a.m. – 4 p.m.
Friday: 9 a.m. – 4:30 p.m.
Saturday: CLOSED
Supervisory Committee
P.O. Box 947536
Maitland, FL 32794